maternal mental health
Supporting Maternal Mental Health and Wellbeing
The Manah Wellness team recently underwent training on how to support pregnant women and new mothers in their emotional journey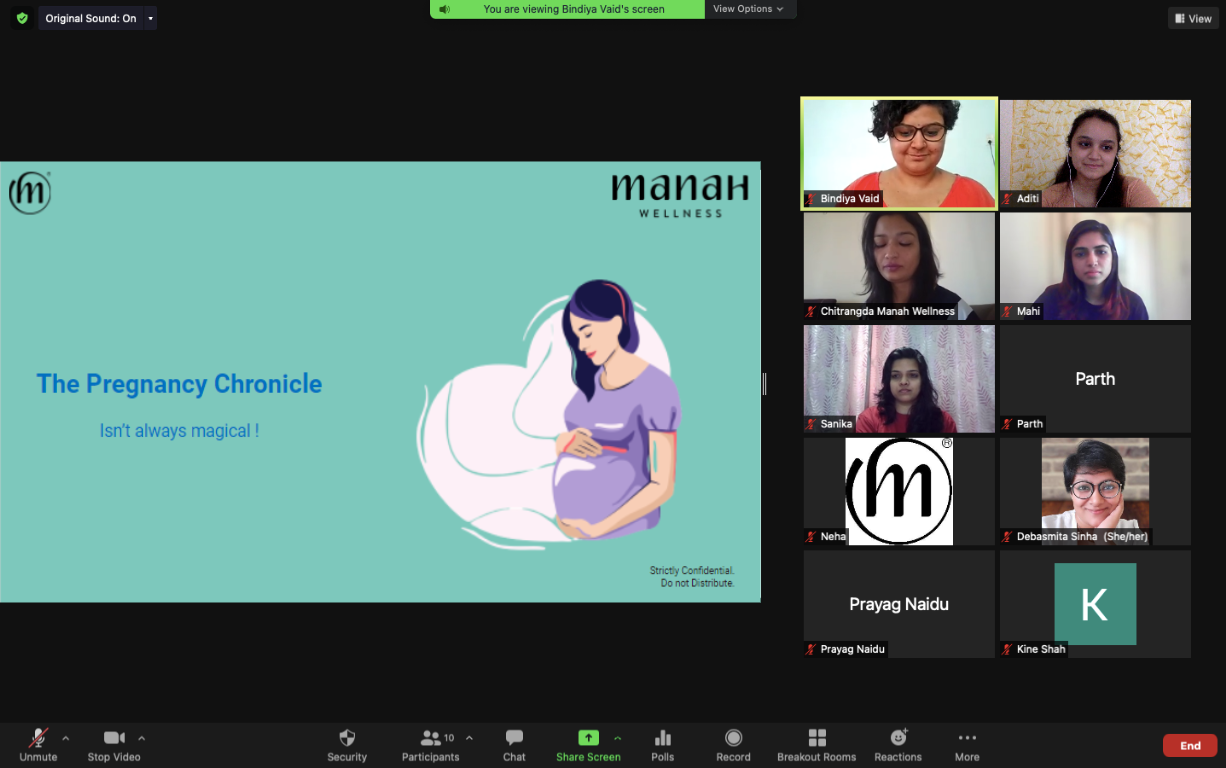 Learning that she is expecting a child is one of the biggest moments in a woman's life. But it's also a time when she needs additional emotional support.
Along with glowing skin and a gorgeous baby bump, pregnant women experience change – in proportions few first-time mothers are prepared for. From their bodies to their moods, relationships, lifestyle, sleep (and even dreams!), everything changes. And that is the best-case scenario. For some expecting mothers, it can turn into months of being on edge, teetering between hope, anxiety, and despair.
Research shows that 10–35% of women around the world, including in India, suffer from depression during pregnancy and the postpartum period. This is exacerbated by the changes in family structures and lifestyles.
Getting Your Employees Back to the Office? Download This Simple Wellbeing Guide Now!
Unlike the old days, women today cannot turn to their elders for advice, because the challenges of modern-day life are quite different from those of a few decades ago. Women professionals face long hours and high stress, long commutes and sedentary lifestyles. Their hectic lives often leave less time for family connections and friendships.
To address the support gap in maternal mental health, especially among working women, the team at Manah recently underwent orientation and training on how to support pregnant women in their emotional journey through the nine months, and beyond.
The objective of the training was to learn about the challenges in conception and pregnancies, and the emotional journey of mothers-to-be. The Manah team was also able to learn the signs of postpartum depression, approaches to treatment, and ways to support the unique challenges of new mothers returning to work.
The six-hour training conducted by Kusuma Harish was spread over two weeks, and included case studies and practice sessions. Ms Harish has 22 years of experience as a clinical psychologist. She has trained as a counsellor for difficult pregnancies and worked extensively in ante-natal care set-ups.
The training covered:
Orientation to difficulties in conception and pregnancies,
The various emotional challenges faced during pregnancy,
The changes after the baby arrives,
Recognising and treating Postpartum Depression,
Supporting new mothers turning to work.
Twelve members of Manah Wellness attended the training. The session helped the team learn more about the various types and scenarios of difficult pregnancies and the emotional challenges that arise during pregnancies. The training, especially the role-plays, helped improve the team's skills and confidence for supporting individuals in the birthing journey.
Try Manah's free emotional wellbeing assessment now!
The learning will be useful for counselling sessions and support groups that Manah conducts for expecting and new mothers. At Manah Wellness, continuous learning and upgradation is a part of our commitment to delivering excellent emotional wellbeing services. To book a counselling session with Manah Wellness, or for any queries, call us on +91 8800667850 or reach us on WhatsApp on 9854940940.
Visit our website Manahwellness.com for more information.